Swimming Pool Construction And Design
Get the ultimate home upgrade to entertain, exercise, relax, and hang out in Chesapeake, Virginia
Scroll to discover swomming pool options, process, and pricing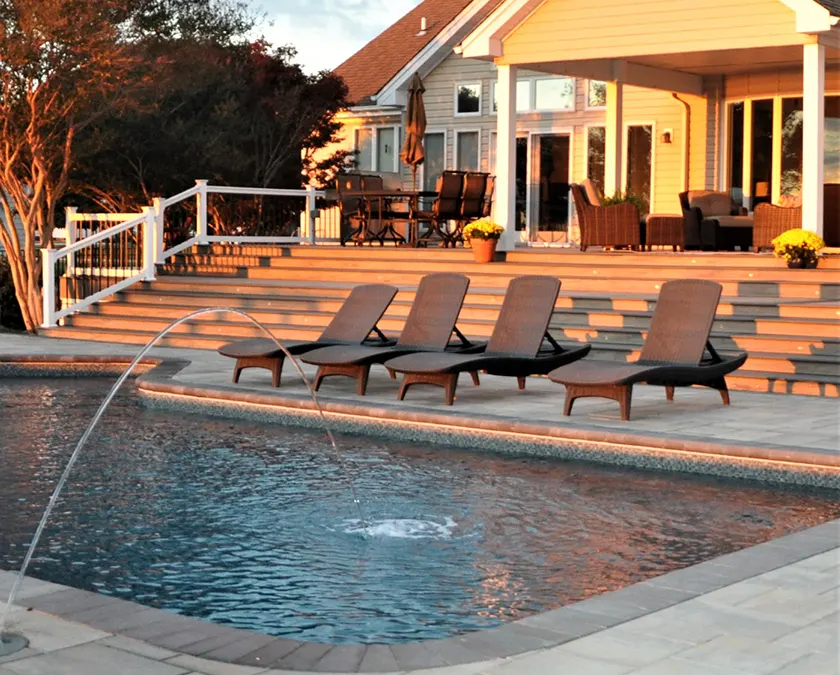 Realize Your Outdoor Potential
When everyday life gets the best of you, it's only natural to feel tired and in need of a vacation. 
Imagine being able to enjoy a daily vacation without even having to travel at all. A swimming pool will not only enhance your backyard in a fantastic way, but it will turn it into a private luxury retreat that you can use anytime you want.
Make your neighbors jealous of how much fun you're having in your new pool and enjoy a vacation spot right outside your backdoor. Anytime you need a break from all the hassle in your life, all you have to do is put on your bathing suit, and go for a swim.
Fun And Relaxation Begin With A Splash
Your options for pool recreation and relaxation are as wide as your imagination.
Here are some of the most popular pool area upgrades and features: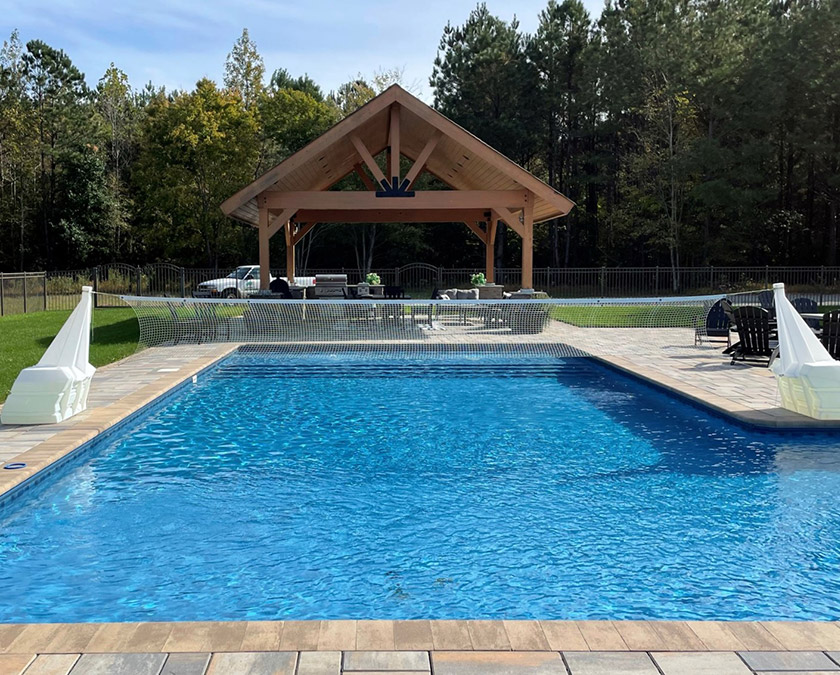 This Is How Your Swimming Pool Can Look
We've been helping families create the pools they've always dreamed about for almost 20 years. Get ready to upgrade your lifestyle and increase the value of your property.
Custom Swimming Pools Designed And Installed
Outdoor Living Spaces Designed And Brought To Life
Outdoor Kitchens Designed And Created
Paver Patios Designed And Built
We cut no corners and use the highest quality products, materials, and techniques to make your dream pool a reality.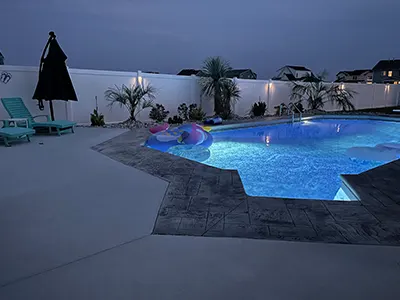 Includes a saltwater chlorinator, single-speed pump, high-efficiency filter, 27 mil liner, standard broom finish concrete, and standard white lighting.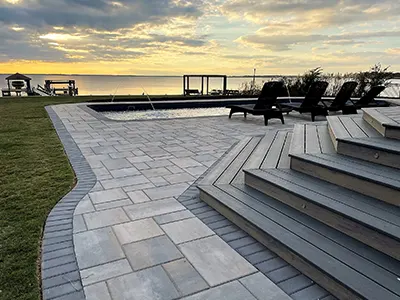 Includes a saltwater chlorinator, premium variable speed pump, high-efficiency filter, 27 mil liner, automated control system, a robotic pool cleaner, built-in benches for sunbathing, concrete paver bullnose coping, and premium ambient lighting.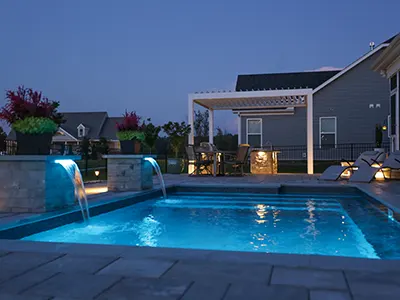 Includes custom waterfalls, color-changing lights, pool heater, bluetooth controls, a salt water chlorinator, premium variable speed pump, high-efficiency filter, 27 mil liner, automated control system, a robotic pool cleaner, full sun shelf with benches, natural stone coping, and premium ambient lighting.
*Prices are averages and may change depending on the size of your pool and your choice of paver materials, special features, and functionality level. You'll receive an exact quote for your pool after the in-house consultation.
A Hands-Off Process Toward Your New Pool
From the moment you reach out to us for a consultation until your pool is finished, we're here to ensure you have a pleasant experience. Our easy process is designed specifically for your satisfaction.

Reach out to us and share your vision for your pool. We'll get back to you with a phone consultation to talk more about your project and schedule an in-person appointment.

To bring your project to life, we'll start with a design and provide a 3D rendering of your pool. Once you approve the design, we order the materials and get to work.

Before you can take a dive, we do a final walkthrough together to make sure everything is perfect. Enjoy your new pool with all your friends and loved ones.
This could be your story...
We're honored to help you enjoy family time together. Read what other happy homeowners say about us and our services.
Conceptual Outdoor Design executed a plan provided by Landscape Architect Kim Williams.
The plan included a herringbone-patterned driveway, rectilinear patio, new steps, and split pavers for the existing porch. 
The site preparation was immaculate. Nathan and his crew were professional and knowledgeable.
They were at the job site daily until job completion. The new hardscaping is a visual delight that is easy to maintain.
Built a stone paver deck and walkways. 23 pallets of material.
A two-month project. Excellent company to work with.
The project included a large deck, walkways to a dock and gazebo.
Nate and Conceptual Outdoor Design was, hands down, the best we worked with over 18 months of construction.
After we moved in, we had a few service issues completely unrelated in installation that Nate took care of immediately.
Our neighbors we so impressed with his work, they hired him to handle their pool deck after he finished our job.
Set Your Dream Pool In Motion And Live In The Lap Of Luxury Right At Home