GRILL OUT ANYTIME YOU WANT WITH AN OUTDOOR KITCHEN THAT BRINGS EVERYONE TOGETHER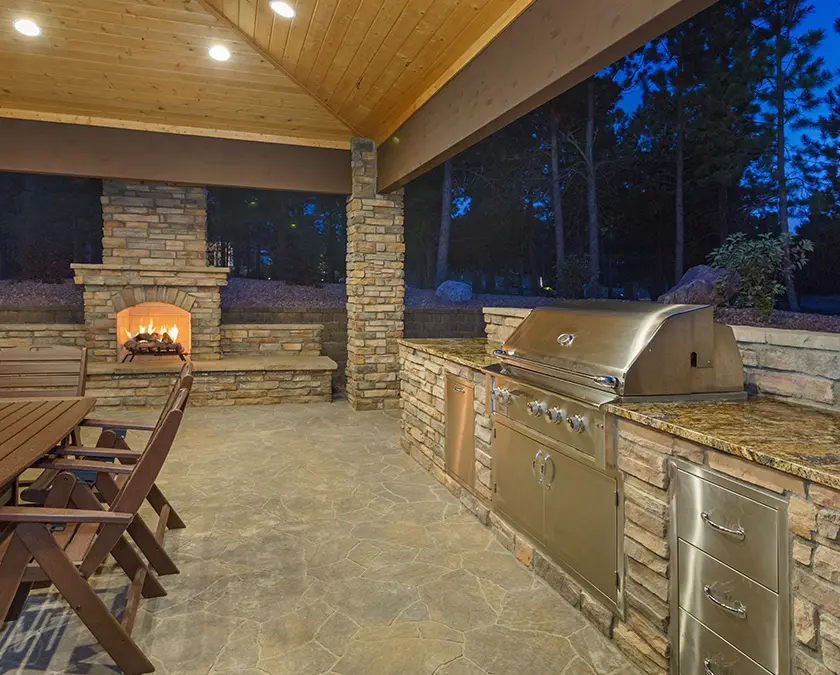 Endless Possibilities For An Outdoor Kitchen You'll Love
If you're passionate about preparing smoky, delicious meals in the comfort of your backyard, an outdoor kitchen with a grilling island and comprehensive appliances is the move for you. While your barbeque is heating up, have a cold beer from your own beer tap, or add an outdoor bar to savor your favorite cocktails with your friends.
We'll help you incorporate everything that you need into an outdoor kitchen that will perfectly fit your backyard layout. Get a new kind of kitchen that you didn't know you needed, and create an outdoor entertaining destination built just for you.
Here are some of the most common upgrades and features homeowners add to their outdoor kitchen:
Bring The Family Back Together
Every family faces its own challenges. As technology becomes more and more present into our lives, distance between family members seems to grow. Kids are stuck playing games on their phones, and adults are always busy behind screens.
If you're hoping to get your family disconnected from devices, creating a functional setting in your backyard can help you bring everyone together again.
You have the opportunity to nourish the mind, soul, and stomach of everyone by cooking, dining, and spending time outside. Family dinners in natural scenery will become both a habit and a pleasure, helping you and your loved ones reconnect.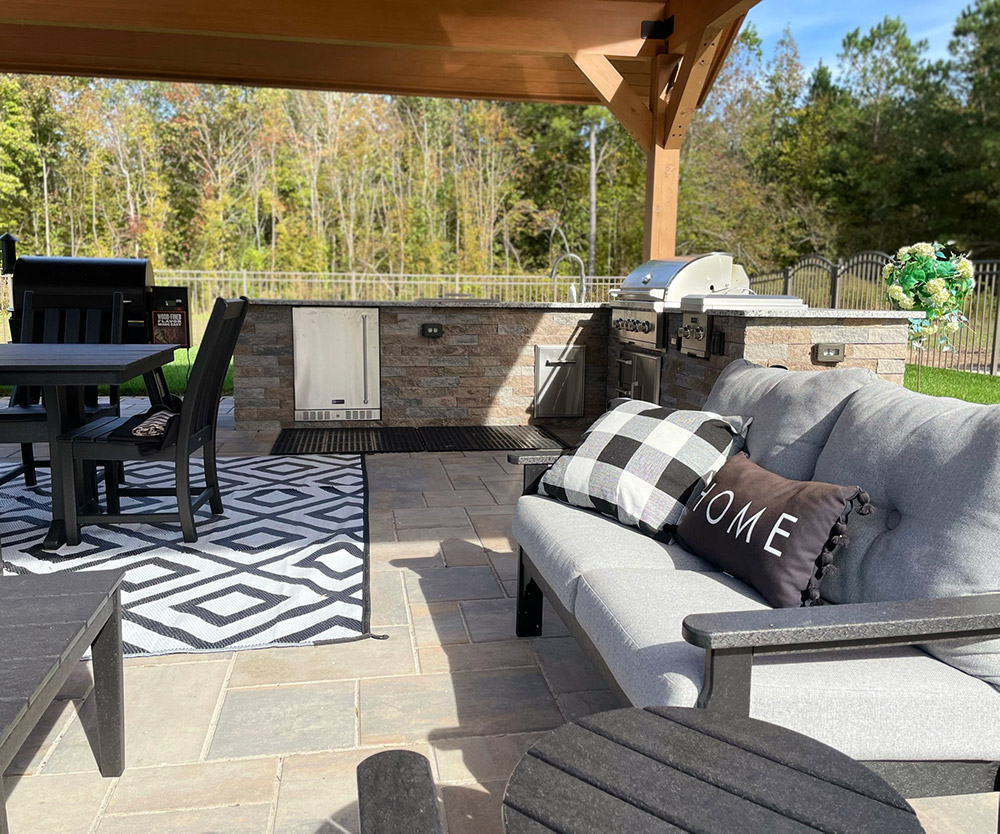 The Easiest Path To An Outdoor Kitchen You'll Love
From the moment you reach out to us for a consultation until your perfect outdoor kitchen is finished, we're here to ensure you have a pleasant experience. Our easy process is designed specifically for your satisfaction.

Reach out to us and share some details about your vision for your outdoor kitchen. We'll get back to you with a phone consultation to talk more about your project and schedule an in-person appointment.

After a walk around your backyard, we'll have a clear idea of what your possibilities are. Next, we'll discuss the materials and products available and give you a cost estimate for your outdoor kitchen, then get to work.

Love Your Outdoor Kitchen
As soon as your outdoor kitchen is done, we'll perform a final walkthrough to make sure every detail is exactly what it should be. Get ready to cook and hang out with your family in a place that has everything you need.
We cut no corners and use the highest quality products, materials, and techniques to make your dream outdoor kitchen a reality.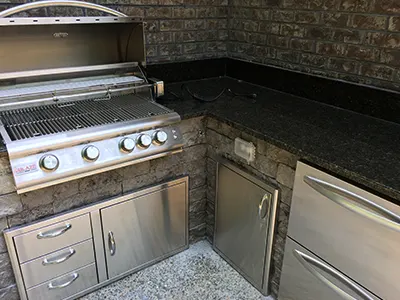 Lifestyle Outdoor Kitchen*
Includes basic appliances, an outdoor grilling station with natural or granite countertops, and an outdoor refrigerator.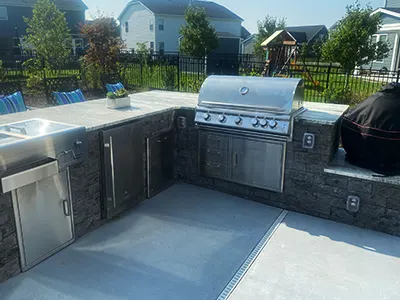 Includes a larger outdoor grilling station (ceramic smoker ready), grilling side burner, outdoor refrigerator, outdoor kitchen furniture with custom countertops, beverage station, outdoor seating, and ambient lighting.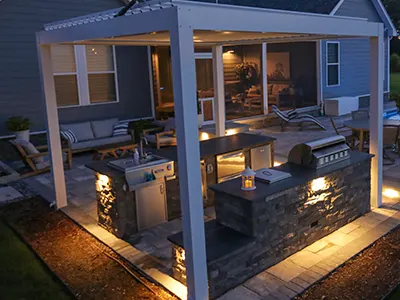 Includes upgraded appliances, expanded grilling station with side burners and ceramic smoker, double drawer outdoor refrigerator, ample outdoor kitchen furniture with custom countertops, full sink with hot and cold water, beverage station, ice maker, outdoor seating, and additional ambient lighting.
*Prices are averages and may change depending on the size of your outdoor kitchen, your choice of appliances, products, special features, and overall design. You'll receive an exact quote for your unique outdoor kitchen after the in-house consultation.
Outdoor Kitchen Portfolio
We've been helping families create the outdoor kitchens they've always dreamed about for almost 20 years. Get ready to upgrade your lifestyle and increase the value of your property.
Custom Swimming Pools Designed And Installed
Outdoor Living Spaces Designed And Brought To Life
Outdoor Kitchens Designed And Created
Paver Patios Designed And Built
What Our Happy Customers Say
We're honored to help you enjoy family time together. Read what other happy homeowners say about us and our services.
Nathan's Team was there when he said he would be, starting on schedule, staying on schedule (weather permitting). As always, he had suggestions along the way which were helpful. There were times when he'd ask a question about something we hadn't thought about and sometimes we didn't know what we wanted him to do. No problem! Nathan said "I'll figure something out if you trust me" and we did with great results. He was EXTREMELY patient with us while we were trying to decide what block to use. He met me at a job in progress to show me what the block we were considering looks like installed and took the time to answer my 200 questions!
Conceptual Outdoor Design executed a plan provided by Landscape Architect Kim Williams. The plan included a herringbone patterned driveway, rectilinear patio, new steps and split pavers for the existing porch. The site preparation was immaculate. Nathan and his crew were professional and knowledgeable. They were at the job site daily until job completion. The new hardcaping is a visual delight which is easy to maintain.
My family and I could not have been happier with the job Conceptual Outdoor Design did at our new home. Nate and his team were nothing short of amazing. We interviewed a number of contractors for this portion of the project and after meeting with Nate and listening to his presentation and knowledge of installation, we hired him on the spot. His project included building a retaining wall, pool deck, driveway, front walk, mailbox and outdoor kitchen. The workmanship throughout was first class. During the course of our home build, we dealt with 50+ contractors.
Bring Your Outdoor Kitchen To Life And Enjoy A New Dining Experience